This piece answers the question "should I buy and sell Ripple in 2019?" by providing objective analysis on the bullish and bearish cases for the cryptocurrency.
XRP is the third-largest cryptocurrency by market cap and it is probably the only cryptocurrency with established relationships with traditional financial institutions. If you've been following cryptocurrencies, you'll probably be wondering if you should buy XRP in 2019. XRP was released in 2012 by Ripple Labs Inc with the singular aim of becoming a blockchain-powered solution for sending money across borders seamlessly.
You probably won't be excited to buy XRP in 2019 when you consider the fact that the coin is trading around $0.25 marking a 31.46% decline in the year-to-date period. However, the depressed price of XRP probably provides a great opportunity to buy it in 2019. Ripple was one of the best-performing coins during the 2017 bull run – it delivered an incredible 31,000% gain to dwarf the performance of Bitcoin, Ethereum and other top coins.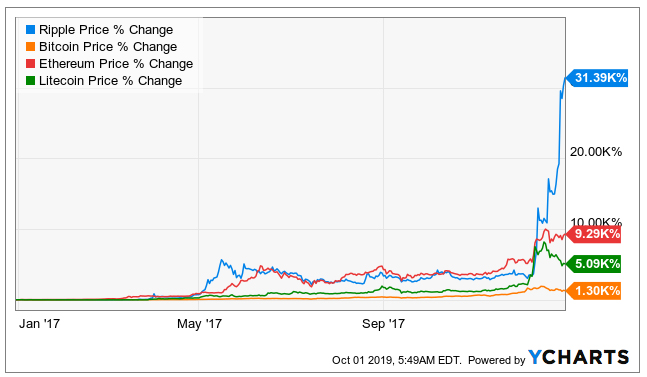 As the fourth quarter of 2019 gets underway, this piece provides an objective update on whether you should buy or sell XRP in the remaining months of this year.
Here's Why You Should Consider Buying XRP in 2019
The first reason you should buy XRP is that it is one of the few cryptocurrency projects with decent odds of revolutionizing finance for the mass market. The global finance industry moves more than $155 trillion across borders; yet, it has remained undisrupted for too long. XRP could potentially upend cross-border money transfers with speed and low transaction costs.

For instance, RippleNet can process cross-border payments under 4 seconds whereas traditional financial institutions take 3 to 5 days to process transactions. Transaction costs on XRP are practically negligible with the minimum transaction cost for standard transactions set at 0.00001XRP.
Secondly, Ripple has succeeded in signing up more than 200 customers including MoneyGram, Santander, and American Express to RippleNet. The quality of customers using RippleNet helps to make the network stronger thereby attracting other users in a self-perpetuating cycle that will eventually make XRP the de-factor mediating currency for international transactions. More so, Ripple processes 1,500 transactions per second ahead of PayPal's 193 TPS, and it is on track to challenge VISA's 24,000 TPS.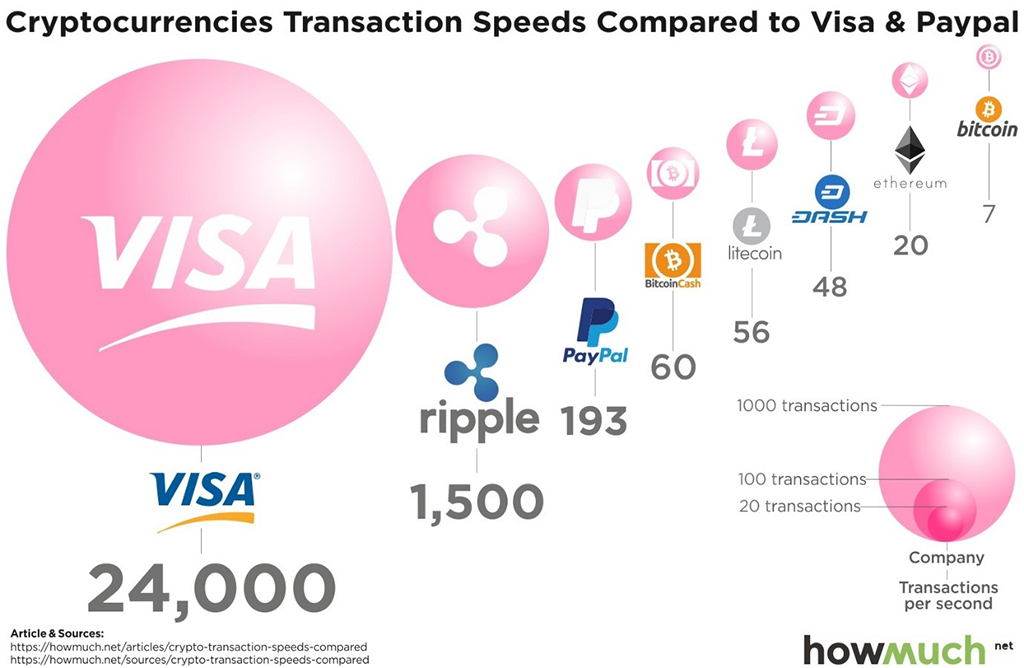 Thirdly, Ripple is working closely with traditional financial institutions and regulators. Its willingness to submit to regulatory compliance mitigates the regulatory risks that might cause crypto to be banned or severely restricted in some jurisdictions. Ripple's regulatory compliance also enables Ripple to collaborate with traditional financial institutions on the future of money instead of the unhealthy competition that often causes banks to denounce and vilify cryptocurrencies.
How and Where to Buy XRP in 2019
If you are planning to acquire XRP the only available option is to buy it since Ripple coins can't be mined. You can buy Ripple with base cryptos such as BTC or ETH or you can buy Ripple on exchanges with stablecoins such as USDT. However, buying XRP with your cards, bank payment, or other traditional digital payment solutions is one of the easiest ways to acquire it.
Skrill, a digital payments company, operating since 2001, has started offering its users a fast, simple, and secure solution for buying XRP. To buy XRP on Skrill, you'll start by opening a Skrill account. The account creation only takes a few minutes, it doesn't require tedious verification, it brings all your payment details together and your Skrill wallet will be live instantly. If you already have a Skrill account, you won't need to open another account and you can just navigate to the crypto tab on your dashboard to start buying Ripple (XRP).

The best part is that Skrill allows you to buy Ripple coin by choosing from about 40 currencies and up to 100 alternative payment methods. Skrill also allows you to set up automated orders to take advantage of price movements to buy XRP when it's trading low and sell XRP profitably when its price has increased. The automated orders only require you to set a trigger price for buy or selling XRP and you can trust Skrill to manage the trades for you without requiring logging in or any other action.
Potential Downsides to Buying XRP in 2019
One of the major risks associated with Ripple cryptocurrency is that the coin is pre-mined with a circulating supply of 100 billion tokens. A 100 billion circulating supply is colossal – basic economics teaches that the price of an asset will increase when the demand is more than the supply while the price of the asset will fall if the supply is greater than the demand. A 100 billion circulating supply is huge, for its price to increase to $10, the market cap will need to soar to $1 trillion – for context, the market cap of Bitcoin is currently about $150 billion.
The second downside is that the Ripple company owns about 60% of XRP – which fundamentally suggests a measure of centralization that contradicts the ideals of cryptocurrency. Apart from the centralization, Ripple releases about 1 billion XRP into circulation every month to "to grow the team, business, and ecosystem". The 1 billion XRP released monthly consistently increases the number of coins in circulation and lowers the odds that the price of XRP will moon unless there's significant mass-market adoption.
How Much XRP Should You Buy in 2019?
The amount of XRP that you should buy will be dependent on several factors such as your risk appetite, how much money you can afford to invest in cryptocurrencies, your investment horizon, and your long-term views on cryptocurrencies.
Cryptocurrencies are still considered high-risk investments; hence, it might not be smart to put all your crypto investments in any single coin. You'll typically want to buy some XRP and a few other coins that fit your investment thesis.
Secondly, XRP doesn't have the high speculative quotient common with cryptocurrencies; hence, you might need to recalibrate your expectations in terms of short-term gains. However, if you are willing to hold Ripple (XRP) for the medium to long term, you might be in a good position to benefit from its continued disruption of the global payments industry.
Conclusion
2019 hasn't been a particularly profitable year for XRP investors; the coin is still stuck with the aftereffects of the 2018 bear market. However, the pros of buying XRP in 2019 appears to outweigh the cons. The depressed price of XRP's price relative to other top coins in 2019 suggests that it is one of the few coins providing an opportunity to amass more coins by buying the dip.
However, you should do your own research before you buy or sell cryptocurrencies and you should not put money that you can't afford to lose. Nonetheless, it is important to note that XRP has an important role to play in the future of cross-border payments.
next Altcoin News, Blockchain News, Cryptocurrency news, News, XRP News

Kseniia is the Chief Content Officer of Coinspeaker, holding this position since 2018. Now she is very passionate about cryptocurrencies and everything connected with it, so she tries to ensure that all the content presented on Coinspeaker reaches the reader in an understandable and attractive way. Kseniia is always open to suggestions and comments, so feel free to contact her for any questions regarding her duties.
Subscribe to our telegram channel.
Join