DASH – Forecast Summary
DASH Forecast: H1 2021


Price: $300 – $345
Price drivers: Bullish Cryptocurrency Market, Ascending Triangle

DASH Forecast: 1 Year


Price: $345 – $435
Price drivers: Increased Adoption and Utility, Bullish Cryptocurrency Market, Ascending Triangle Breakout

DASH Forecast: 3 Years


Price: $450 – 1400
Price drivers: New Developments from DASH, Crypto Market Sentiment
The cryptocurrency market has skyrocketed since December 2020, and DASH has also followed the trend. DASH/USD is trading at a $305.13 level, exhibiting a strong bullish trend, following in its peers' footsteps. Considering the past six months' performance, the pair has gained +$234.61, soaring massively by 334.07%. Simultaneously, DASH has added +$208.76 to surge by 283.43% over the period of a year. Currently, the DASH/USD Live Price chart suggests that it is trading at $ 304.161. The digital cash crypto had risen by almost 3 times its price at the end of November 2020, when the coin was only worth $80. The all-time high of Dash, initially known as XCoin and then Dark, was more than $1500 in 2017 when all the cryptocurrencies followed the spike in Bitcoin. The gold rush in DASH from $10 to $1600 could not live for long, however, and it started dropping at the start of 2018. Since then, the digital cash crypto continued its bearish momentum till the end of 2020. However, in 2021 DASH has revived its bullish trend and has been rising since January, and has reached  $290 level.
Recent Changes in the DASH Price:
| | | |
| --- | --- | --- |
| Period  | Change ($) | Change (%) |
| 30 Days  | +82.5 | +37.14% |
| 6 Months  | +234.61 | +334.07% |
| 1 Year  | +208.76 | +283.43% |
 
As its name suggests, DASH cryptocurrency has one clear focus, and that is digital cash. Even though almost all cryptocurrencies aim to assist online payments, many big cryptos, including Bitcoin, are not suitable for everyday transactions. There are various factors, including high processing fees, lack of anonymity, and slow transaction time, making the big cryptos too complex for simple purchases.
Dash has the same codebase as Bitcoin, but it can process transactions quickly, in as little as 1.5 seconds. The average time of the Dash platform is 2.5 seconds which is around 4 times faster than Bitcoin. Its platform also provides users with the feature of a decentralized funding system that enables users to apply for funding to build their Dash projects. The digital cash crypto is fully anonymous, unlike Bitcoin that is fully transparent.
DASH Live Chart
DASH Price Prediction for the Next 5 Years
Dash, the program created by Evan Duffield, has become increasingly popular around the world due to its key features. In Venezuela, more than 800 merchants accept DASH as payments because DASH has emerged as a more stable alternative to the crashing Venezuelan bolivar. Similarly, Zimbabwean startup KuvaCash, which raises funds on Dash's decentralized funding system, also uses DASH as an alternative to its national currency. The Dash platform has also funded the Alt Thirty-Six platform in America that facilitates payments for the cannabis industry in the US. In London, many shopping centers even have starter operating Dash ATMs that depict the increased adoption and popularity of this cryptocurrency in the global market.
Despite its popularity and adoption, Dash has failed to secure impressive growth in comparison to other altcoins. It stands at 44th rank in the list of cryptocurrencies arranged by share in market capitalization with $2.65 billion. The digital cash cryptocurrency started its first day of 2021 with a trading price of $99.6, and it is currently moving at $263.17 in April 2021. DASH's market capitalization remained below $1.5 billion throughout 2020, but in 2021, it has reached above $2.6 billion and indicates an impressive growth for DASH in just four months. 2021 has supported the cryptocurrency market as the demand for parent crypto Bitcoin has increased substantially due to increased adoption and popularity. DASH has also seen a gradual increase in its prices due to its unique features in scalability and the improved market sentiment for cryptos and DeFi.
The near-term outlook for the market and the DASH coin suggests a further increase in prices; however, given the history and increased competition in the market, the long-term trend for DASH is still unclear and remains challenging. However, we still hope DASH will survive and gain in 2021 as this year seems to be the year of cryptocurrency adoption and users turn towards them as transactional currencies and as a store of value.
Factors Affecting DASH
Dash Platform

– The platform powers and funds a range of decentralized apps, and the popularity of these apps tends to increase the demand for platform usage. The key factor driving the DASH prices lately was the popularity of KuvaCash in Zimbabwe, which continuously pushed DASH prices upward. The increased interest in DApps will cause an increased interest in the underlying Dash technology that could drive the prices even higher in the next couple of years. 

Increased Acceptance

– Dash is unique among cryptocurrencies as it facilitates everyday payments. The emergence of this digital cash crypto as a viable asset in countries where the native currency has started to collapse serves as a strong testament to its usability. Furthermore, DASH ATMs' appearance in London shopping marts also depicts the increased acceptance of this cryptocurrency.

The coronavirus pandemic has increased our reliance on contactless payments that demand anonymity provided by cryptocurrency like DASH that secure users' privacy. The solution for increased demand for anonymous payments has also raised the outlook for DASH coin that could prove beneficial in coming years.
Cryptocurrency Market

– The adoption of cryptocurrencies, especially Bitcoin and Ethereum, has grown substantially in the past four months. Bitcoin hit an all-time high (ATH) of $60,000 in March and constantly surpassed this level. Ethereum has also crossed its key level of $2000 in April and even reached $2100 due to increased adaptability and popularity.

The rising demand for NFTs, decentralized finance (DeFi), and smart contracts have raised the demand for underlying blockchain technologies that have lifted crypto elites' prices. The biggest currencies have gained, but the upward trend has also prevailed in the entire market due to the impact of Bitcoin over the whole market. Bitcoin tends to drive other altcoins' prices as it consists of 50% of the whole market capitalization. The recent $1.5 billion worth investment in Bitcoin by famous Tesla, along with the news of Ethereum blockchain set to use my credit card company VISA to settle crypto payments, added further to the boom of the cryptocurrency market that indicates a bright future of cryptos, including DASH coin.
DASH Features –

DASH has unique features like InstantSend and PrivateSend that will enable it to compete with the payment processing company VISA. This is achieved by utilizing its elements of master node consensus and transaction locking on its blockchain. The InstantSend technology of Dash offers users rapid transaction times in a decentralized and trustless manner. In contrast, Dash's PrivateSend feature helps users remain anonymous for transactions only if they choose so. Dash is listed, and trading on high-volume exchanges like Binance, BitAsset, and many more; the consistent trade volume could also help achieve higher prices soon.

Increased Utility –  

Dash was named among 11 cryptocurrencies that experienced high daily volumes of transactions from January 2017 to February 2021 along with Bitcoin and Ethereum in a report by Statista. Dash was also categorized under the most used digital currencies for making small trades, primarily retail purposes that indicated its real-world usage. These reports show the increased utility of DASH that could drive its prices higher in coming years.
Technical Analysis – DASH/USD Violates Upward Trendline
The DASH/USD pair is exhibiting strong bullish bias since January 2021, surging from $62 level to $301 level. On the technical front, the pair is trading sharply bullish at $301, holding above monthly 20 and 50 periods EMA support levels of $60 and $100 levels, respectively. The leading technical indicators, the MACD (Moving average convergence divergence) and RSI (Relative Strength Index), are exhibiting a bullish trend in the currency pair. 
On the monthly time-frame, the MACD and RSI have crossed over the mid-level (0 level), and 50 respectively, which exhibits a strong bullish trend in the price. DASH/USD has closed a series of bullish engulfing candles on the monthly time-frame, and it's likely to continue an upward trend until the $347 level. As you can see on the monthly chart, the pair is likely to complete 23.6% Fibonacci retracement at $317. This level's violation can extend the buying trend until the $549 level that marks 38.2% Fibo level.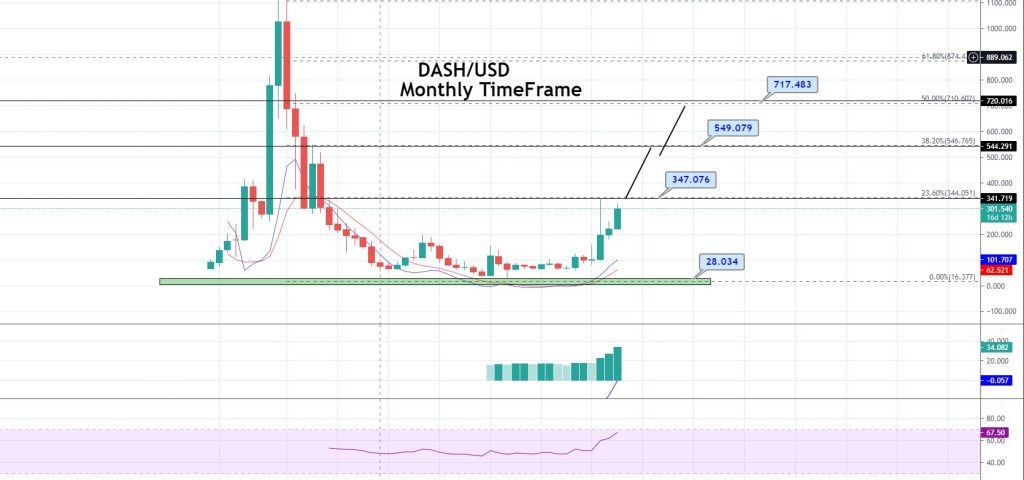 DASH/USD – Monthly Time-frame – Fibonacci Retracement 
On the monthly time-frame, DASH/USD has closed three white soldiers that are likely to lead the pair towards the $347 level. On the lower side, DASH may find support at the $190 level, and below this, the next support holds around $93.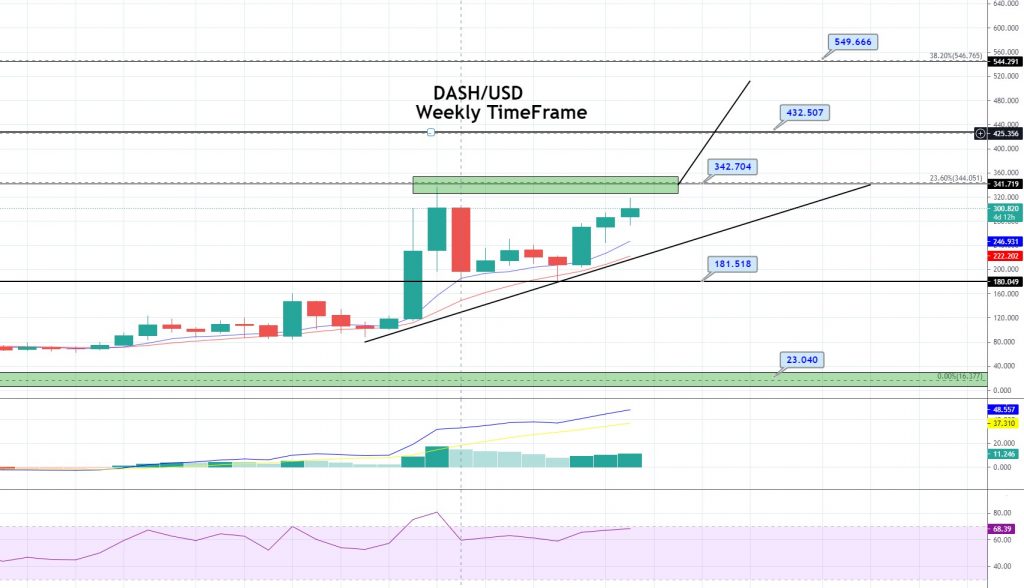 DASH/USD – Weekly Time-frame – Upward Channel 
The DASH/USD pair has entered the bullish zone at  $300 level on the weekly timeframe, and it has strong odds of a bearish correction below $342 level now until $247. The series of exponential moving averages are also suggesting chances of a buying trend in the pair. These exponential moving averages are holding around $246 level, suggesting buying opportunities in the pair. The pair may find immediate support at the $246 and $181 area, and the violation of this level can lead it towards the $86.63. The weekly RSI and MACD indicators support a buying trend. The pair has also formed an ascending triangle pattern on the weekly timeframe, indicating strong odds of bullish trend continuation. Therefore, the violation of the immediate resistance area of the $342 level can lead the DASH/USD price towards an initial target level of $432 and $549 level afterward. Good luck!