AAVE – Forecast Summary
AAVE Forecast: H1 2021


Price: $150- $300
Price drivers: Cryptocurrency Market, Technicals

AAVE Forecast: 1 Year


Price: $300 -$450
Price drivers: Increased Adoption and Utility, Cryptocurrency Market, Technicals

AAVE Forecast: 3 Years


Price: $500 -$750
Price drivers: Price drivers: New Developments from AAVE, Crypto Market Sentimen
 
Aave is an Ethereum-based money market that allows users to borrow and lend a wide variety of digital assets, from stablecoins to altcoins. The Aave protocol is governed by AAVE holders. Aave, which means "ghost" in Finnish, was initially known as ETHLend when it launched in November 2017, but the rebranding to Aave happened in September 2018. AAVE provides holders with discounted fees on the platform. Moreover, AAVE also serves as a governance token, which gives owners a say in the future development of the protocol.
AAVE Coin recently exceeded the 2020 highest price. Most of the top 100 cryptocurrencies are still fighting to achieve their figure of February 2020, when AAVE hit its all-time high of $498 in February. Suddenly after dropping to $312, it started to grow with steady performance, comparing it today to $322.05. However, its growth could be attributed to the fact that the coin is running on the Ethereum network. That may be the reason behind Aave's sudden growth, as the current market cap transaction has an average valuation of almost $3.5 million. The current Aave price is $322.05, with a 24-hour trading volume of $373,828,345. Aave has dropped 2.15% in the past 24 hours. The current Aave ranking is #28, with a live market cap of USD 4,120,460,762. It has a circulating supply of 12,794,278 AAVE coins and a maximum supply of 16,000,000 AAVE coins.
As we earlier mentioned, Aave is a decentralized finance protocol that enables users to lend and borrow various digital assets, from stablecoins to altcoins. Lenders earn interest by depositing digital assets into specially created liquidity pools. Borrowers can then use their crypto as security to take out a flash loan using this liquidity. Aave introduced additional features, such as instant loans and other forms of issuing debt and credit that take advantage of the unique design properties of blockchains.
Who Are the Founders of Aave?  
Aave is a for-profit company established in 2017 by Stani Kulechov. It is based in Switzerland. Stani Kulechov was trained in law in Helsinki and started Aave while he was studying. The firm, originally named ETHLend, raised $16.2 million in an initial coin offering (ICO) in 2017, during which time it sold 1 billion units of its AAVE cryptocurrency – originally named LEND. 
What Makes Aave Unique?  
Aave has many unique points as compared to other cryptocurrencies. During the DeFi craze in the summer of 2020, it was seen as one of the biggest projects in terms of the total value of crypto locked in its protocol. It allows people to borrow and lend in nearly 20 cryptocurrencies, meaning that users have a wide amount of choice. One of Aave's flagship products is "flash loans," which it touts as the first uncollateralized loan option in the DeFi space.  Another unique point is how those who borrow through Aave can alternate between fixed and variable interest rates. While fixed rates can give some certainty about costs during times of volatility in the crypto markets, variable rates can be helpful if the borrower thinks that prices will fall short.
Recent Changes in the AAVE Price
| | | |
| --- | --- | --- |
| Period  | Change ($) | Change (%) |
| 30 Days  | -163.98 | -64.06% |
| 6 Months  | 68.88 | 26.90% |
| 1 Year  | 199.81 | 78.05% |
&nbsp
AAVE Price Prediction for the Next 5 Years
We will represent the comprehensive AAVE price prediction and forecast that provide a better insight into the current AAVE market situation, AAVE market capitalization, and future expectations concerning the price action. It will help to understand what's going on in the crypto market right now.
Aave is a decentralized finance protocol that allows people to lend and borrow crypto, which Stani Kulechov founded in 2017.The current Aave price is $322.05, with a 24-hour trading volume of $373,828,345. Aave has dropped 2.15% in the past 24 hours. The current Aave ranking is #28, with a live market cap of USD 4,120,460,762. It has a circulating supply of 12,794,278 AAVE coins and a maximum supply of 16,000,000 AAVE coins.
We believe that Aave is the best investment opportunity for the long term. As per our forecast, the price of AAVE will be about $1327.240 per coin at the end of December 2021. In 2022, the price is forecast to rise further to $2371.730 (+250 percent). In 2023, the price is projected to be $3410.670(+560 percent) and $4448.460 (+880 percent).
Our platform thinks that the Aave coins are a profitable investment. The AAVE price can increase according to the predicted data by them. As per our rough estimate, AAVE is likely to be worth $1,347.37 in 2025. December 2021 is likely to end with a price of $627.17 after next year with a price of $756.3; in 2023, the price will be $908.12.
Technical Analysis – AAVE/USD Consolidates Over Double Top
Like other crypto pairs, AAVE/USD also trades with a slight bearish bias at the 276.88 level. On the technical front, the coin consolidates a narrow trading range of 429 – 276 area, and breaking out of this range can determine further trends in the AAVE/USD coin. On the weekly timeframe, AAVE/USD is supported by an upward trendline that can trigger an upward movement in the crypto pair. The leading technical indicators, the MACD (Moving average convergence divergence) and RSI (Relative Strength Index), are exhibiting a bearish trend in the crypto pair.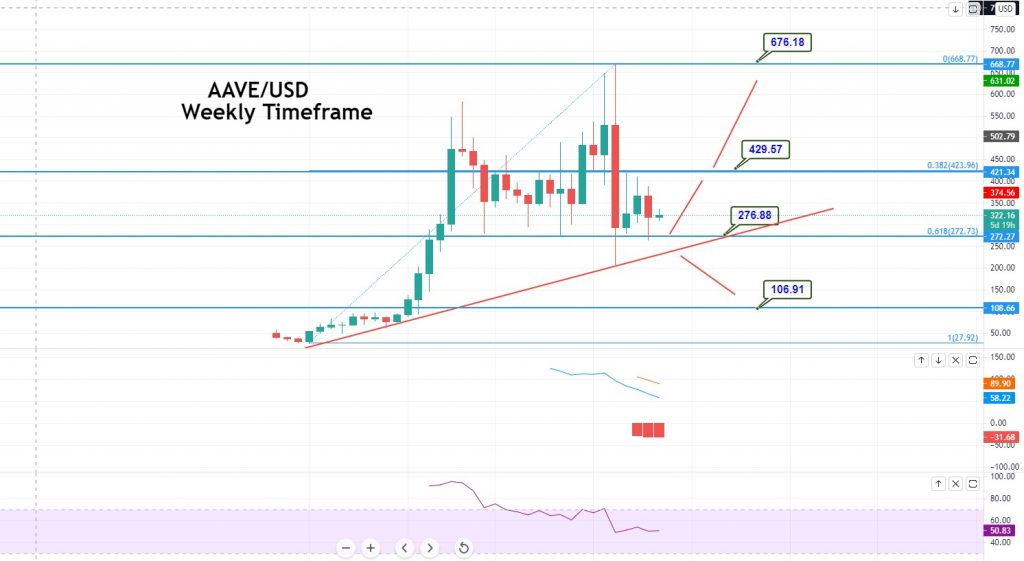 AAVE/USD – Weekly Time-frame – Upward Trendline Support
On the weekly time-frame, the MACD and RSI have crossed below the mid-level (0 levels), and 50 respectively, which exhibits a strong selling trend in the price. AAVE/USD has closed a series of bearish engulfing candles on the weekly time frame, and it's likely to continue a  downward trend until the $276 level. As you can see on the weekly chart, the coin gains immediate support at the $276 level and breaks out of this can trigger further selling trend until $200 and $106.91 level. At the same time, the resistance level can be found around $429 level. A bullish crossover of these levels can lead the crypto pair's price towards $580 and $668.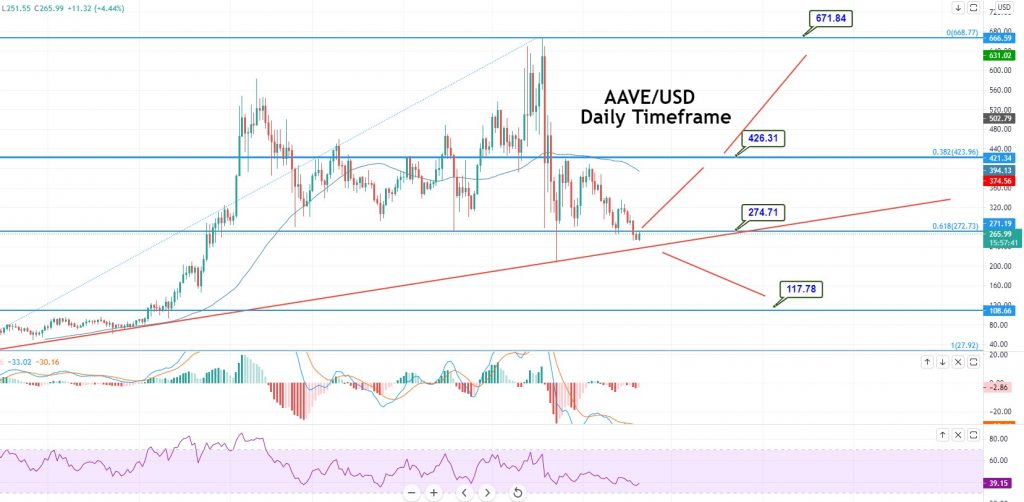 AAVE/USD – Daily Time-frame – 61.8% Fibonacci Retracement Supports 
The AAVE/USD coin is trading with a mixed bias at $307. On the daily timeframe, it is gaining solid support at the 61.8% Fibonacci retracement level of $274 and a bullish bounce off over this level is quite likely. As we can see, AAVE/USD is facing a hard time violating the below $274 support level, as it's also working as a triple bottom support pattern. In case of a bullish bounce-off, the AAVE/USD pair can surge until the next resistance level of $426 and $671. 
On the higher side, the coin may face immediate resistance at the $426 level extended by 50 periods EMA level. At the same time, a bullish crossover of the 50 EMA line is expected to drive further buying until the $670 level. The RSI and MACD indicators support selling bias as the MACD and RSI both hold below and 50, respectively. This demonstrates a selling trend. Therefore, the breakout of the $426 level can lead the AAVE/USD price towards the next support area of $117.  Good luck!